Bricklayer Apprenticeship, Standard, Level 2
Level
Level 2

Duration
3 years

Start Date
November 2022

Venue
Easton College

Course Code
E0227
Start Date
November 2022, Apprenticeship
Summary
The range of sites and projects that bricklayers will work on include large commercial developments, new builds in housing, alterations, extensions and restorations. A bricklayer may work one-on-one or on larger jobs where their bricklaying group (gang) may work on a section of a building alongside other bricklaying gangs as well as other trades.
Course Content include:
Health and safety hazards, current regulations and legislation.
The principles of high-quality customer service.
Different eras, types of construction methods, insulation considerations, sustainability, facilities management, fire, moisture and air protection. Fireplaces and chimneys. Damp proof courses and the use of brick ties.
Modern methods of construction, rapid build technology, alternative block, masonry, steel and timber based cladding systems.
Set out and build brickwork, including complex arches and surrounding brickwork, curved on plan, concave and convex brickwork and battered brickwork.
Select materials and resources required to set out and build fireplaces and chimneys.
You will complete the Level 2 Bricklayer Apprenticeship Standard.
This Apprenticeship will involve college attendance and off the job training.
You will also develop your knowledge, skills and behaviours.
You need to have an employer to support your Apprenticeship and be employed in a relevant job role.
The typical length of this Apprenticeship course is 30 months.
This course starts in November 2022 and is delivered at our Easton College site.
If you already have an employer for your Apprenticeship, or would like more information on how to find an Apprenticeship, please click Apply Now.
If you are an Employer who is looking to recruit an Apprentice or already have someone you would like to enrol onto the Apprenticeship course, please contact our Apprenticeship Team on 01603 773365 or email Apprenticeships@ccn.ac.uk to discuss next steps.
Entry Requirements
GCSE English: 2 / E & Maths: 2 / E or Level 1 Functional Skills in Maths and English
In order to enrol onto an Apprenticeship, you need to be employed in a relevant job role and undertake a range of tasks which would enable you to complete the Apprenticeship qualification.
Learning Outcomes
For the full Apprenticeship, candidates will complete:
Level 2 Bricklayer Apprenticeship Standard
Level 2 Functional Skills in English (if applicable)
Level 2 Functional Skills in Maths (if applicable)
Assessment
Training and assessments are delivered in the workplace and in college. Apprentices will be required to attend college-based sessions as part of their training, whilst also completing off-the-job training in the workplace.
You will also complete assessments and observations in the workplace.
You will need to complete Level 2 Maths and English before End Point Assessment.
At the end of the Apprenticeship you will complete an End Point Assessment which will comprise of:
Knowledge test – assessed by an End-point Assessment Organisation (EPAO), this test will consist of multiple-choice questions on a computer-based platform. Provisions can be made for paper-based assessments to be made available if reasonable adjustments require this.

Skills test – assessed over 2 days by an Independent End-point Assessor (IEPA), this assessment will holistically assess skills, knowledge and behaviours acquired throughout the apprenticeship.
Oral questioning – assessed by an IEPA following the skills test, to confirm the learners understanding and to obtain further evidence of knowledge. It will extend and amplify the ability demonstrated in the skills test.
Career Progression
Career or academic progression may include continuation, development or promotion at work or within this sector and progression into higher education.
Fees
Apprenticeship course fees are subject to the age of the apprentice, the payroll of the employer and the number of employees. Course fees are paid by the employer and not the apprentice. Employers who take on an apprentice aged between 16-18 years old, or aged 19-24 with an Educational Health Care Plan, will receive an Incentive Payment to help cover their costs.

To discuss Apprenticeship course fees, more information on recruiting an apprentice or if you would like to train your existing staff please contact our Apprenticeship Team on 01603 773365 or email: Apprenticeships@ccn.ac.uk
Latest News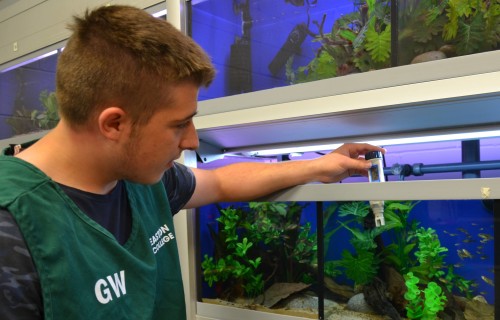 Students on our Level 3 Extended Diploma in Animal Management (Zoo Pathway) have become the first in the UK to sit an important water quality exam for working in aquariums and zoos.
Read more
25th July 2022