Carpentry and Joinery Apprenticeship Level 3 Standard
Level
Level 3

Duration
2 years

Start Date
November 2022

Venue
Easton College

Course Code
E0208
Start Date
November 2022, Apprenticeship
Summary
The occupation involves carrying out advanced skilled work, primarily using timber products, either on a construction site, or in a workshop, creating and installing building components. The advanced carpenter and joiner is able to undertake complex job tasks.
There are two pathways offered as part of this Carpentry & Joinery Apprenticeship:
Pathway 1: An Advanced Site Carpenter will normally work on a building site, or in domestic and commercial premises, preparing and installing complex and often bespoke building components e.g. high quality doors, shaped linings, staircases with turns, complex wall and floor units, erecting bespoke structural carpentry (inclined roofs and joists) and erecting complex roof structures (e.g. inclined roofs with hips, valleys and dormers).
Pathway 2: An Advanced Architectural Joiner will normally be employed in a workshop, producing complex building components by setting out, marking out and manufacturing bespoke architectural products (e.g. doors, windows, staircases with turns and panelling/cladding).
You will complete the Level 3 Carpentry and Joinery Apprenticeship Standard.
This Apprenticeship will involve college attendance and off the job training.
You will also develop your knowledge, skills and behaviours.
You need to have an employer to support your Apprenticeship and be employed in a relevant job role.
The typical length of this Apprenticeship course is 18 months.
This course starts in November and is based at our Easton College site.
If you already have an employer for your Apprenticeship, or would like more information on how to find an Apprenticeship, please click Apply Now.
If you are an Employer who is looking to recruit an Apprentice or already have someone you would like to enrol onto the Apprenticeship course, please contact our Apprenticeship Team on 01603 773365 or email Apprenticeships@ccn.ac.uk to discuss next steps.
Entry Requirements
GCSE English and Maths at grade 4 minimum or L2 Functional Skills in English and Maths
In order to enrol onto an Apprenticeship, you need to be employed in a relevant job role and undertake a range of tasks which would enable you to complete the Apprenticeship qualification.
Learning Outcomes
For the full Apprenticeship, candidates will complete:
Level 3 Advanced Carpentry and Joinery Apprenticeship

Pathway 1: NVQ Level 3 Diploma in Wood Occupations – Site Carpentry

Pathway 2: NVQ Level 3 Diploma in Wood Occupations – Architectural Joinery
Assessment
Training and assessments are delivered in the workplace and in college. Apprentices will be required to attend college-based sessions as part of their training, whilst also completing off-the-job training in the workplace. You will also complete assessments and observations in the workplace.
You will need to complete Level 2 Maths and English before End Point Assessment.
Assessment will take place both during and at the end of the apprenticeship, with completion being dependent on successful achievement of the qualification elements and the endorsement of the employer after a professional discussion, with the apprentice and training provider.
Progression
On completion of this standard, apprentice will progress to a wide range of employment opportunities, or move onto full or part-time further education.
Career Progression
The achievement of this standard will meet the requirement of the Construction Skills Certification Scheme (CSCS) 'Advanced Skilled Worker' standard, which is widely recognised as a 'licence to operate' in a skilled construction trade.
Fees
Apprenticeship course fees are subject to the age of the apprentice, the payroll of the employer and the number of employees. Course fees are paid by the employer and not the apprentice. Employers who take on an apprentice aged between 16-18 years old, or aged 19-24 with an Educational Health Care Plan, will receive an Incentive Payment to help cover their costs.

To discuss Apprenticeship course fees, more information on recruiting an apprentice or if you would like to train your existing staff please contact our Apprenticeships Team on 01603 773365 or email: Apprenticeships@ccn.ac.uk.
Latest News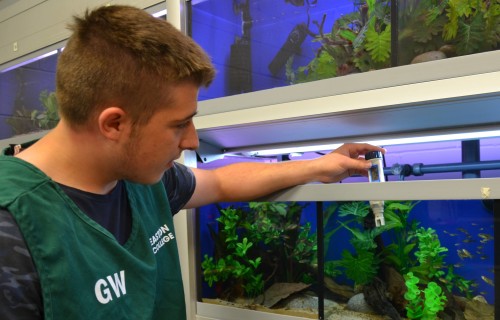 Students on our Level 3 Extended Diploma in Animal Management (Zoo Pathway) have become the first in the UK to sit an important water quality exam for working in aquariums and zoos.
Read more
25th July 2022