Property Maintenance Operative Apprenticeship Level 2 Standard
Level
Level 2

Duration
2 years

Start Date
November 2022

Venue
Easton College

Course Code
E0194
Start Date
November 2022, Apprenticeship
Summary
The primary role of a Property Maintenance Operative is to optimise property condition and quality and to ensure the building is kept in a safe working condition. Property Maintenance Operatives need to maintain a high level of quality, providing maximum satisfaction to customers, clients, guests and team. They will understand the mechanism of buildings including electrical, plumbing, plant, safety systems and equipment. They will provide first and immediate response to fault finding, whilst maximising quality and ensuring cost effectiveness. They will ensure prevention of major damage that could result in extensive costs and minimise reactive intervention.
Course Content includes:
Use knowledge and understanding of basic carpentry, electrical, plumbing and decorating.
Carry out repairs to the fabric of a building, for example repairs to walls, doors, door frames, skirting boards or plaster damage to internal walls
Understand how to prepare for refurbishment or deep clean of equipment and surfaces
Commitment to quality and excellence
You will complete the Level 2 Property Maintenance Operative Apprenticeship Standard.
This Apprenticeship will involve college attendance and off the job training.
You will also develop your knowledge, skills and behaviours.
You need to have an employer to support your Apprenticeship and be employed in a relevant job role.
The typical length of this Apprenticeship course is 18 months.
This course starts in November and is delivered at our Easton site.
Contact our Apprenticeship Teamfor more information.
If you already have an employer for your Apprenticeship, or would like more information on how to find an Apprenticeship, please click Apply Now.
If you are an Employer who is looking to recruit an Apprentice or already have someone you would like to enrol onto the Apprenticeship course, please contact our Apprenticeship Team on 01603 773365 or email Apprenticeships@ccn.ac.uk to discuss next steps.
Entry Requirements
GCSE English 2/E and Maths 2/E or Functional Skills L1 in English and Maths
In order to enrol onto an Apprenticeship, you need to be employed in a relevant job role and undertake a range of tasks which would enable you to complete the Apprenticeship qualification.
Learning Outcomes
For the full Apprenticeship, candidates will complete:
Level 2 Property Maintenance Apprenticeship Standard
Assessment
Training and assessments are delivered in the workplace and in college. Apprentices will be required to attend college-based sessions as part of their training, whilst also completing off-the-job training in the workplace. You will also complete assessments and observations in the workplace.
You will need to complete Level 2 Maths and English before End Point Assessment.
At the end of the Apprenticeship you will complete an End Point Assessment which will comprise of:
A synoptic knowledge assessment to consist of multiple-choice or structured questions (short-answer) to assess the bulk of the generic knowledge across the apprenticeship. These will be sat under invigilated conditions and marked by the Awarding Organisations (ie externally). This will be graded pass/distinction/fail.

A synoptic practical assessment assessed by an independent assessor (Awarding Organisation appointed or 3rd party) that requires the candidate to complete a number of core practical activities, in controlled conditions. The activities will be chosen from a bank of tasks developed by the Awarding Organisation working with representatives of the employers. Evidence will predominantly be via observation but could also include oral questioning to ensure the apprentice has the skills and supporting knowledge required of the role. Where oral questioning is used this is to assess knowledge relating to a practical skill or task eg 'why', 'when' type questions – not 'how'. This will be graded pass/distinction/fail.

A synoptic interview to question the apprentice on skills not covered by the practical assessment as well as the behaviours using the portfolio of evidence as a basis for the discussion. This will be carried out by the independent assessor and graded pass/fail.
Progression
The apprentice will be recognised by the British Institute of Facilities Management (BIFM) providing Associate Membership for the apprentice whilst studying. BIFM have confirmed resources and learning materials will be available for the apprentice to support them throughout their learning journey.
Progression into:
Level 3 Electrical Installation/Maintenance
Level 3 Plumbing & Heating
Level 3 Carpentry & Joinery
Career Progression
Completing this apprenticeship programme with its transferable skills will enable progression into roles such as a Technical Specialist e.g. Electrical or Plumbing and Supervisory and Management roles e.g. Facilities Management, across a wide range of sectors.
Fees
Apprenticeship course fees are subject to the age of the apprentice, the payroll of the employer and the number of employees. Course fees are paid by the employer and not the apprentice. Employers who take on an apprentice aged between 16-18 years old, or aged 19-24 with an Educational Health Care Plan, will receive an Incentive Payment to help cover their costs.

To discuss Apprenticeship course fees, more information on recruiting an apprentice or if you would like to train your existing staff please contact our Apprenticeships Team on 01603 773365 or email: Apprenticeships@ccn.ac.uk.
Latest News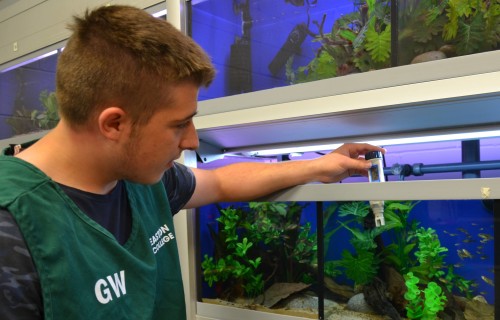 Students on our Level 3 Extended Diploma in Animal Management (Zoo Pathway) have become the first in the UK to sit an important water quality exam for working in aquariums and zoos.
Read more
25th July 2022