Veterinary Nurse Apprenticeship Standard Level 3
Level
Level 3

Duration
3 years

Start Date
September 2022

Venue
Easton College

Course Code
E0266
Start Date
September 2022, Apprenticeship
Summary
Veterinary nursing is the supportive care of animals receiving treatment within a veterinary practice setting. A Veterinary Nurse works as a member of the veterinary team, providing expert nursing care for sick animals. Veterinary nurses also play a significant role in educating owners on maintaining the health of their pets. They carry out technical work and are skilled in undertaking a range of diagnostic tests, medical treatments and minor surgical procedures, under veterinary direction. Veterinary Nurses are registered professionals and work within the standards and scope of practice defined by the Royal College of Veterinary Surgeons (RCVS).
This Apprenticeship Standard will develop the key knowledge, skills & behaviours you will need to succeed in the sector, supported by industry specialist teaching staff. This course is delivered from our Easton campus, and is suitable for new and current employees who are employed in an approved training veterinary practice.
On successful completion of this course, employers will have an independent skilled Veterinary Nurse who is both a practical and financial asset to the team.
We deliver one course pathway for this Apprenticeship; Small Animal.
This apprenticeship is delivered at our Easton Campus.
Entry Requirements
English: 4 / C Maths: 4 / C Science: 4 / C
Two other subjects: 4 / C
In order to enrol onto an Apprenticeship, you need to be employed in a relevant job role and undertake a range of tasks which would enable you to complete the Apprenticeship qualification.
Learning Outcomes
Year One Skills: Theory, practical, mock exams, CSL logging, assignment.
Year Two Skills: Theory, practical, mock exams, CSL logging.
Year Three Skills: Theory, practical, mock exams, CSL logging, assignments, OSCE (Objective Structured Clinical Examination).
Knowledge & Behaviours of the Occupational Standard are embedded in the college delivery through theory classes, feedback and assessments.
Upon successful completion of the course, learners will be awarded with a Level 3 Veterinary Nurse Apprenticeship Standard, which includes the following;
Level 3 RCVS Accredited Licence to Practise Veterinary Nursing Qualification
If not previously achieved, Level 2 in English & Maths
Assessment
The Apprentice will be ready for End Point Assessment which includes:
Professional Discussion
Practical Assessment; 12 station OSCEs
Progression
The impact of this course should support a learner's progression which may include:
The skills to further develop a specialism, such as Equine Veterinary Nursing
Additional qualifications, such as the Graduate Certificate in Advanced Veterinary Nursing or Postgraduate Certificate of Advanced Veterinary Nursing, awarded by RCVS.
Career Progression
The successful completion of this course should provide the employer or wider sector with a skilled staff member.
There are opportunities to develop your career and specialise depending on the practice that you work in and your interests. For example, within referral practice, you could specialise in a specific type of nursing care, e.g. Anaesthesia, Rehabilitation, Ward-Care or Diagnostics. Alongside the animal-related work, there are also options for you to progress and specialise in a managerial role such as a Practice Manager.
Fees
Apprenticeship course fees are subject to the age of the apprentice, the payroll of the employer and the number of employees. Course fees are paid by the employer and not the apprentice. Employers who take on an apprentice aged between 16-18 years old, or with an Educational Health Care Plan, will receive an Incentive Payment to help cover their costs. To discuss Apprenticeship course fees, employers should contact the Apprenticeship Team on 01603 773365 or email Apprenticeships@ccn.ac.uk.

For more information on recruiting an apprentice or if you would like to train your existing staff please contact our Apprenticeships Team on 01603 773365 or email Apprenticeships@ccn.ac.uk.
Latest News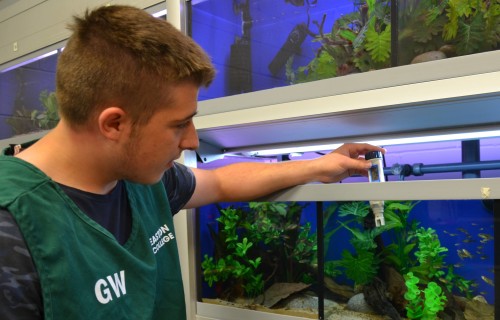 Students on our Level 3 Extended Diploma in Animal Management (Zoo Pathway) have become the first in the UK to sit an important water quality exam for working in aquariums and zoos.
Read more
25th July 2022