General Farm Worker Standard Level 2
Level
Level 2

Duration
2 years

Start Date
September 2024

Venue
Easton College

Course Code
E0276
Start Date
September 2024, Apprenticeship
Summary
The Agriculture, Food and Drink sector within Norfolk and Suffolk has a workforce of 79,900 and 8,300 enterprises. Thanks to the growing world population (which is expected to hit 10 billion by 2050), there is more demand than ever on farmers to produce food, while there are new business opportunities growing in energy production, carbon capture and environmental management.
The course benefits apprentices by supporting them to gain recognised skills that meet the needs of the Agricultural sector. It also benefits employers and the wider sector by providing highly skilled and versatile employees who can work as part of a team. A General Farm Worker is likely to specialise in Livestock or Crop on an arable or mixed farm. All apprentices complete the core duties and select the most appropriate option duties.
The course starts by supporting learners in a General Farm Worker role to gain a foundation of basic skills that extends across the General Farm Worker standard:
Maintaining a culture of health and safety
Biosecurity
Engaging with third parties
Animal health and welfare
Maintenance and cleanliness of machinery
Maintaining crops
Recording keeping
As the course progresses, skills become more advanced as knowledge and independent learning are introduced. Input from the Agricultural sector has indicated that the development of professional behaviours is an essential requirement for working in a farm team and will underpin all college learning.
This apprenticeship is delivered from our Easton Campus and the typical duration is 24 months. The next intake is in September 2024.
Contact our Apprenticeships Team to find out when our next course start date is. If you are an employer who is looking to recruit an apprentice or you already have someone you would like to enrol onto the apprenticeship course, please contact our Apprenticeships Team on 01603 773365 or email Apprenticeships@ccn.ac.uk to discuss the next steps.
Why Our College?
Real working environment
Learn on our operational commercial farm covering over 200 hectares.
£9bn industry
with over 476,000 workers on farms in the UK.
Show your skills
Exhibit your work at regional agricultural shows.
Entry Requirements
GCSE Grade 3/D in Maths and English (Language or Literature) or Level 1 Functional Skills in Maths and English
In order to enrol onto an apprenticeship, you must be employed in a relevant job role and undertake a range of tasks which would enable you to complete the qualification.
Learning Outcomes
Upon successful completion of the course, learners will be awarded with a Level 2 General farm worker Apprenticeship Standard, which includes:
Level 2 Award in the Safe Use of Pesticides
Award in Emergency First Aid at Work
If not previously achieved, Level 2 in English and Maths
Assessment
The apprentice will be ready for End Point Assessment (EPA) which includes:
45- minute multiple- choice knowledge test
6- hour practical assessment including 3 core tasks and 1 task related to the chose option
1- hour professional discussion with an independent assessor
Progression
The impact of this course should support a learner's progression which may include:
Continuation, development or promotion at work or within this sector.
The skills to further develop a specialism, such as Livestock or Crop specialisms.
A learner may choose further study as a Level 3 Livestock Technician or Level 3 Crop Technician once in an appropriate job role to further their career.
Career Progression
The successful completion of this course should provide the employer and wider sector with a skilled staff member able to work within a farm team.
Fees
Apprenticeship course fees are subject to the age of the apprentice, and the size of the company
 
For employers with less than 50 employees who do not pay the apprenticeship levy and who take on an apprentice who is aged between 16-18 at the start of their apprenticeship, there will be no direct cost and the full training costs will be covered by Government funding. If the apprentice is aged 19+ the government partially subsides the training costs and the employer will need to pay 5% of the costs. In the case of this course, the fee would be £250.
 
For an employer with more than 50 employees a 5% charge will be implemented regardless of the age of the apprentice which in this case would be £250.
 
A levy paying company will pay the full cost of the apprenticeship from their levy account which in this case would be £5,000.
 
Please note that course fees are to be paid by the employer and apprentices must not be asked to make a financial contribution toward their training.
 
To discuss apprenticeship course fees in more detail or for more information on recruiting an apprentice, please contact 01603 773365 or Apprenticeships@ccn.ac.uk.
Why Our College?
Real working environment
Learn on our operational commercial farm covering over 200 hectares.
£9bn industry
with over 476,000 workers on farms in the UK.
Show your skills
Exhibit your work at regional agricultural shows.
Latest News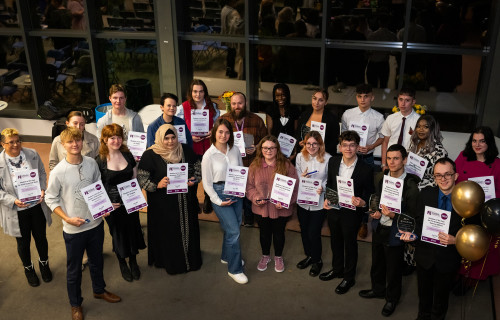 The achievements of twenty seven outstanding students were celebrated at our 2023 Further Education Awards.
Read more
2nd November 2023